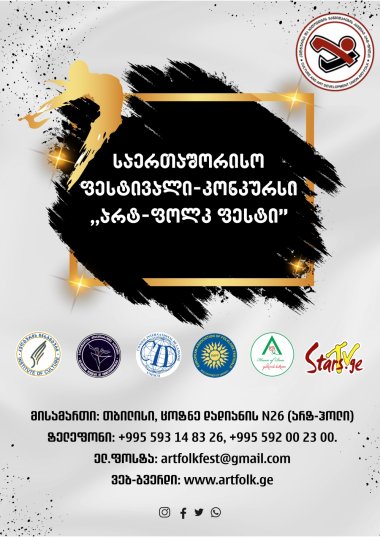 საერთაშორისო ფესტივალ-კონკურსი არტ-ფოლკ ფესტი 2024
International Festival Art-Folk Fest 2024
МЕЖДУНАРОДНЫЙ ФЕСТИВАЛЬ КОНКУРС ART-FOLK FEST ЛЕТО 2024
12-21 /07/ 2024
INTERNATIONAL FESTIVAL COMPETITION ART FOLK FEST is intended for groups and soloists of different ages and dance/vocal categories. It's a celebration of dance art for children and adults in a unique atmosphere of ancient Georgia, combining a holiday in wonderful country with participation in a prestigious event. The biggest award will be 1 Grand Prize in the amount of 1000 euro for the best performance (from all categories) carefully selected by competent jury. Our richest experience makes Art-Folk leader in the realization of international festivals and contests in Georgia and is synonym for quality and excellence.
Note: Participation in the Contest is optional. Groups, performers can participate in all of the Festival events without being part of Contest, as laureates. Please indicate in the filled in application your intention of participation – Festival laureate or Competition participant.
Venues for the Festival-Contest:
Goal of the Festival:
Development of arts; popularization of the world culture; sharing of experience between participants; empowerment of mutual respect and tolerance; deepening of creative contacts; popularization of Georgian and world arts.
Participation Conditions:
Participants present two shows (3-5 minutes each). In the final conclusive concert participating artists will present only one show. Music can be live or phonogram. With the application Festival participants submit their program (audio, video files of their previous shows, materials necessary to be published in the newspaper and Festival Magazine). Festival participants will be awarded with the Festival Laureate Diplomas and different presents.
Age category:
Participants:
GROUPS - Nominations in 2 categories:

VOCAL

Academic singing;

Jazz/rock/rap singing;

Folk singing;

Pop singing;

DANCE

Folklore dance groups (authentic and stylized);

Classical dance groups;

Contemporary dance (jazz modern, neoclassic);

Street dance (hip hop, disco, techno, street, break dance, and other street styles).

SOLOISTS - Nominations in 3 categories:

INSTRUMENTAL PERFORMANCE:

Folk instruments (accordion, accordion, balalaika, etc.)

Wind instruments (flute, clarinet, saxophone, trumpet, etc.)

Classical instruments (guitar, piano, violin, cello, etc.),

Variety instruments (electric guitar, synthesizer, percussion, etc.)

CHOREOGRAPHY:

Variety dance

Folk-stage and Folk-stylized dance

Modern dance

Classical dance

Street dance

VOCAL:

I category: academic singing;

II category: jazz singing;

III category: folk singing;

IV category: pop singing;
Awards:
Cash Grand Prize for all participants - 1000 euro for the Dance and Vocal categories (including groups and soloists) together;

Winners in other categories will receive special prizes (not cash prize).

The jury has the right not to award, but also to duplicate certain places at its own discretion.
Jury:
The composition of the jury is formed and approved by the Organizing Committee of the competition;

The jury of the competition is formed by specialists of culture and art, famous artists: composers, singers, choreographers, variety artists, and teachers;

When there are situations when there are no worthy candidates for the Grand Prix and prizes, the Grand prix and prizes are not awarded;

The jury does not consider national and social features, material possibilities;

Participants are evaluated in each nomination;

The jury evaluates the performance by closed voting;

The jury can share the title of laureate and diploma between several participants;

Decisions of the jury are not subject to appeal;

The Organizing Committee is not responsible for the decision of the jury and the awarding of seats to the participants.

Festival and Contest requirements, specified in the score sheet of the jury:

Vocals:

Purity of intonation;

Range of voice;

Artistry and scenic culture;

Choosing a repertoire;

Dance:

Theme and selection of the repertoire;

Performing skills;

Dance composition;

Costumes and props;

Acting skills.
Preliminary program:
Day 1 – Arrival and accommodation of the international groups;
Day 2 – State Academic Dance and Song Ensemble Arsiani Venue – 1st Festival concert;
Day 3 – Optional excursion to Makhuntseti Waterfalls near Batumi (if not chosen, free day in Kobuleti);
Day 4 – Concert at the Musical Center of Batumi.
Day 5 – Optional excursion to Kutaisi and Prometheus Cave – 15 EURO per person + entrance fees (as indicated below). Groups which will not choose the Prometheus Cave excursion will have free day in Kobuleti.
Entrance fee:

Student and pupil – 5 Gel

Foreign citizen – 20 Gel

Boat service:

Georgian citizen – 10 Gel

Foreign citizen – 15 Gel

Ticket price includes guide service.

Guide service is in Georgian, English, Russian and German languages.

If not chosen – free day in Kobuleti;
Day 6 – Kobuleti Open Theatre – 3rd Festival Concert; Excursion to evening and night Batumi; first half of the day, free day in Kobuleti;
Day 7 – Trip to Ureki (day at the beach with magnetic black sand);
Day 8 – Excursion to evening and night Batumi; first half of the day, free day in Kobuleti;
Day 9 – Trip to Ureki or free day in Kobuleti;
Day 10 – Departure of the international groups.
Participation fee:
Festival and Contest Participation fee: according to self-funding principle each foreign participating groups pay the following fee per participant of their group:
EURO 200 - 10 days – hotel accommodation (3 and 4-bed rooms), meals 3 times a day; all in-country transportation;

EURO 250 - 10 days – 2 start hotel accommodation (2, 3, 4-bed rooms), meals 3 times a day; all in-country transportation;

EURO 350 - 10 days – 3 star hotel accommodation (2, 3 bed rooms), meals 3 times a day; all in-country transportation;

EURO 400-450 -

10 days – 5 star hotel accommodation (2, 3 bed rooms), meals 3 times a day; all in-country transportation;

Fee for participation in the Contest is EURO 300 for groups and EURO 50 for soloists.

Note: accommodation will be located in the City of Kobuleti; hotels will be specified after the type and level of hotel will be chosen by each participating group.

Еvery 16th member in a group is free.
Participation fee includes:
10 days accommodation in comfort rooms, TV, private bathroom with a shower and hot water;

10 days full board;

Free Excursions;

Full support our staff during the festival.

Supplement for double room – 5 euro per day per person.

Supplement for single room – 10 euro per day per person.
Participation fee does not include:
Additional day in the hotels: 25, 30, 35 euro per person per day (depending on the category of service selected);

Optional tours;

International Transport, insurance.
Any group willing to participate must submit an Application form.
Approved groups pay in advance a 10% guarantee fee, which is to be deducted at the final payment.
As a next step, participating group transfers to the organization committee 50% advance payment of the whole fee to be paid. Remaining 40% is to be transferred not later than one month ahead of the start of Festival.


Address: Ts. Dadiani #26 (Cultural Center Art-Hall), Tbilisi, Georgia
Tel: +995593 14 83 26, +995592 00 23 00.
E-mail: artfolkfest@gmail.com;
Web-Site: www.artfolk.ge
Facebook: Art-Folk Art-Folk